Source for Video:https://www.youtube.com/watch?v=sISoL3OUtkE
Ottawa is ending its pandemic border measures, including the requirement for travellers to show proof of COVID-19 vaccination upon entering Canada and mandatory masking on planes and trains, while making the use of the ArriveCan mobile app optional.
"Based on the data accumulated over the last few weeks, we are announcing that the government of Canada will not renew the order in council that expires on Sept. 30, and will remove all COVID-19 order requirements for all travellers entering Canada," Health Minister Jean-Yves Duclos said at a press conference on Sept. 26.
"This includes the removal of all federal testing, quarantines, isolation requirements, as well as the mandatory submission of health information in ArriveCan."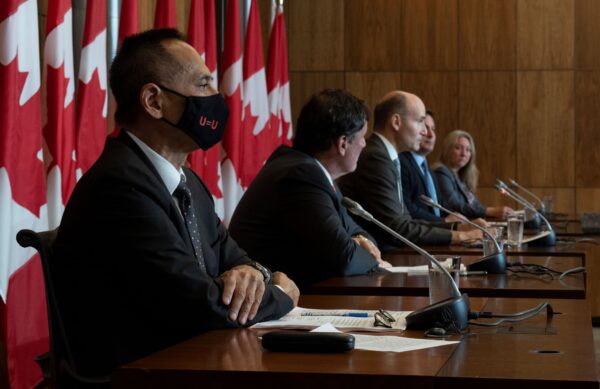 The press conference was held jointly with other cabinet ministers, including Public Safety Minister Marco Mendicino, Transport Minister Omar Alghabra, Treasury Board President Mona Fortier, and Infrastructure Minister Dominic LeBlanc.
The ministers said the federal government will maintain the ability to re-establish certain border measures in the future should it find it necessary to prevent the importation of new COVID-19 variants.
"The situation in Canada has greatly improved, but there are challenges that remain and we have to continue to be vigilant … but we feel now that we can change our approach at the international borders at this time," Mendicino said.
Starting Oct. 1, people will no longer be required to undergo health checks when travelling by air and rail or be subject to COVID-related quarantine or isolation requirements, or wear masks on planes and trains, and airlines will no longer need to review the vaccination status of travellers, regardless of their citizenship.
Similar changes will also apply to passengers travelling by cruise ships, where passengers and crews on board will no longer be subject to vaccination requirements or testing before they board a vessel.
"The removal of border measures has been facilitated by a number of factors, including modelling that indicates that Canada has largely passed the peak of the Omicron BA.4 and BA.5 fuelled wave, Canada's high vaccination rates, lower hospitalization and death rates, as well as the availability and use of vaccine boosters (including new bivalent formulation), rapid tests, and treatments for COVID-19," the federal government said in a statement.
The federal government has been facing pressure by the Conservatives as well as those in the industry and officials in border cities to end the various border restrictions. Opponents of the restrictions have cited concerns about limitation of personal freedoms as well as damage to the business sector.
"After constant pressure from Conservatives & people across Canada, Trudeau Liberals finally back down on the disastrous ArriveCAN app, unscientific vaccine mandates & forced mask-wearing," Conservative Leader Pierre Poilievre said in a social media post. "None of the science changes October 1 but because of you, Trudeau has to."
ArriveCan Now Optional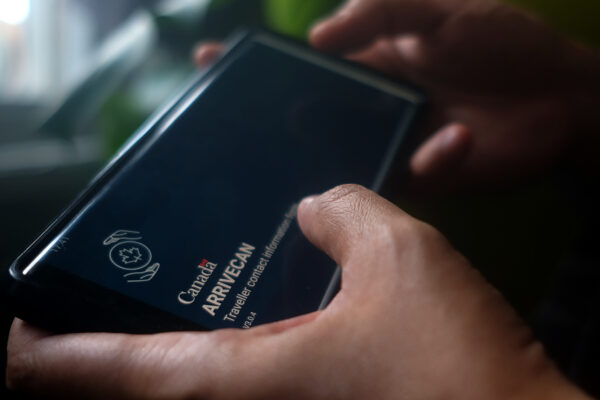 ArriveCan was initially introduced for travellers to report their vaccination status and provide pre-departure test results to the Canada Border Services Agency. But its scope was expanded as a digitized border arrival tool, allowing people flying into Canada in certain airports to use it to fill out their customs and immigration form rather than the paper version.
"Since its inception, ArriveCan has been linked to mandatory health information, including vaccination status that travellers have submitted when entering Canada," Mendicino said. "ArriveCan will now become voluntary for those who want to save time at airports by uploading documents in advance."
The federal government first introduced the requirement for travellers to be vaccinated against COVID-19 about a year ago, and has renewed that order about every three months.
The latest order will expire Sept. 30 and will not be renewed.
Source for Story:
https://www.theepochtimes.com/canada-ends-border-vaccine-rules-arrivecan-use-requirements_4754843.html