Source for video:https://www.youtube.com/shorts/rSuQGGZd914
The bond between a dog and its human is generally one of pure love and unbreakable loyalty.
If there was ever any doubt that dogs were made for humans—that they're man's best friend—let this video put the matter to rest forever!
On a busy street corner in Ecatepec, Mexico, last summer, one young woman caught an incredible sight:
A wheelchair-bound disabled man was effortlessly gliding his way across a crosswalk but it was a dog, not a human, who was pushing the wheelchair with its head from behind. They moved with surprising ease across the uneven pavement.
When the pair drew near, the young woman saw that it was a German shepherd-type pooch pushing the wheelchair. This was a service dog by all accounts, judging from the vest it was wearing and its impeccable discipline and behavior.
The woman, who goes by the TikTok handle BrendaBriones9, gently asked the person in front of her to move over so she could video the incredible sight of a dog looking after its master.
People watched in disbelief.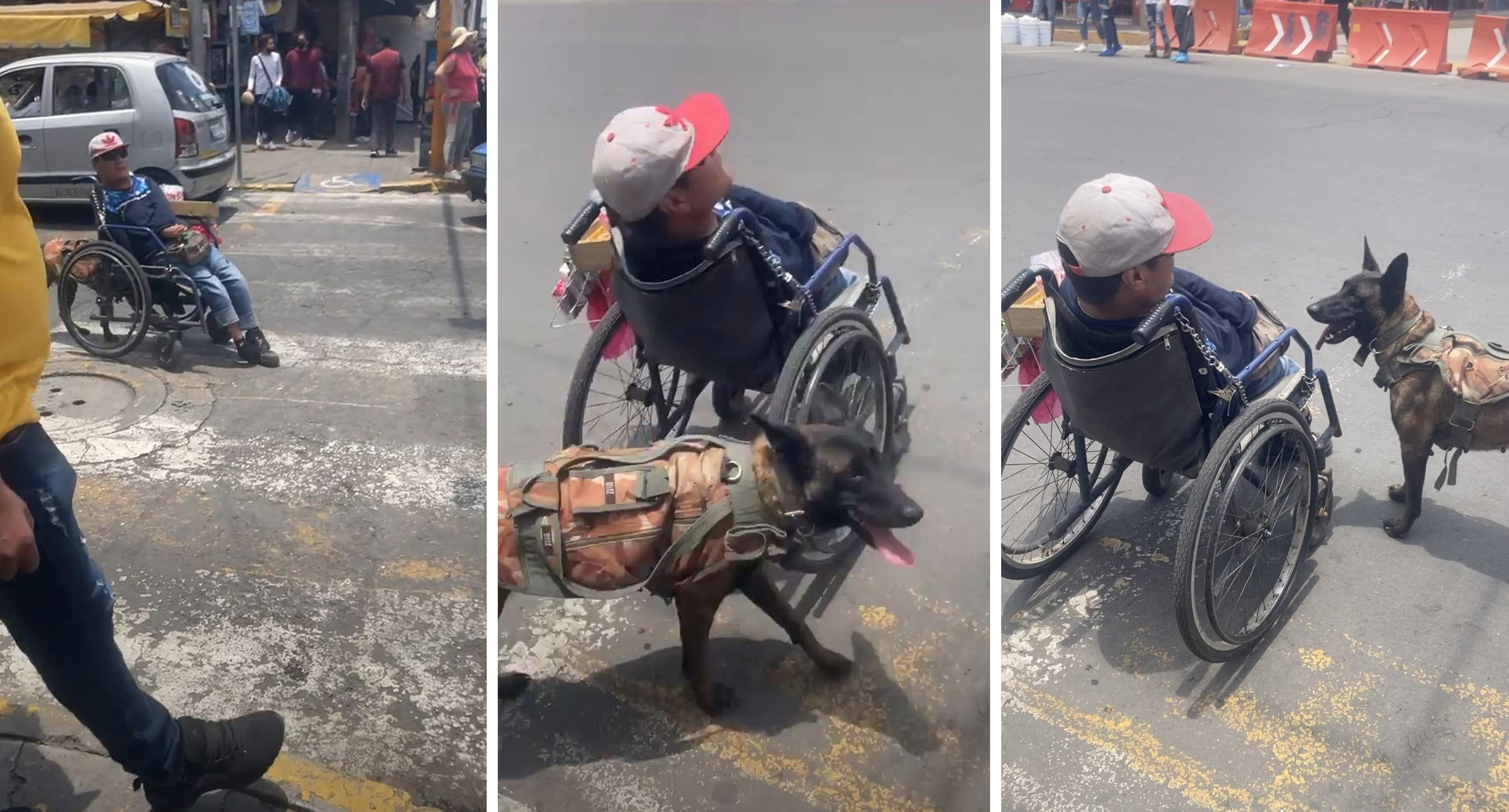 They halted on the corner and prepared to cross the street like everyone else. As they waited, amazingly, the dog even went around in front of the wheelchair to watch for traffic and tend to its master, seemingly taking great care that he not be harmed by automobiles driving by.
Then, without prompting, once it was their time to cross, the dog promptly circled back round, lowered its head, and began pushing the wheelchair across the street once again with surprising dexterity.
Passersby couldn't help but be moved by this gesture of love and loyalty. One can audibly be heard "Awww"-ing.
BrendaBriones9 posted the extraordinary footage on TikTok where it has since garnered 32.2 million views, to date, with some 1.6 million likes. The rare and unbelievable display of 
canine
 fealty left TikTok users in admiration for the faith and devotion of this lovely pup, as evidenced from their comments.
Mav n Miley aptly wrote, "Dogs are angels 🥰🥰."
Meanwhile, Grahamstings said, "Animals don't judge don't discriminate an don't ridicule from afar………more humanity than all of us put together 😳🙏."
Sebastian Contreras, like many others, clearly couldn't believe his eyes, as he commented, "This is unbelievable 😳🥰🥺." Well, the proof is in the pudding. The video doesn't lie."
Jimbro summed up our sentiments exactly by commenting, "Most loyal trusting friend a man can ask for. There innocence is so pure. A Mans best friend🥰🥰🥰."
Source for Story:
https://www.theepochtimes.com/video-loyal-k9-amazingly-pushes-disabled-owner-in-wheelchair-across-streets-in-mexico-and-its-incredible_4773073.html